YMC
Preparative LC
Bulk
Normal Phase Stationary Phases
YMC has achieved considerable improvements in the manufacture of its classical silica base. This has given rise to an improved generation of stationary phases with superior physical attributes: YMC*Gel High Grade (HG)-series.
Advantages
Higher sample load
Less backpressure
Longer column usage
More repacking times possible
More efficient column packing
Available Stationary Phases:
YMC*Gel NH2-HG (Amino)
YMC*Gel CN-HG (Cyano)
YMC*Gel Diol-HG
YMC*Gel SIL-HG (Silica)
YMC*Gel SIL (Silica)
Base Material
high grade silica
classical silica
Modification
NH2
CN
Diol
unmodified
unmodified
Particle Size [µm]
10, 15, 20, 50
10, 15, 20, 50
10, 15, 20, 50
10, 15, 20, 50
50, 75, 100, 150
Pore Size [nm]
12, (20, 30)
12, (20, 30)
12, 20, 30
6, 8, 12, 20, 30
6, 12
Surface Area [m²/g]
330, (175, 100)
330, (175, 100)
330, 175, 100
650, 510, 330, 175, 100
700, 400
Particle Shape and Particle Size Distribution
Improvements in the production process of the base silica has led to particles with higher mechanical stability and more uniform particle and pore size distribution (see microscopy images below).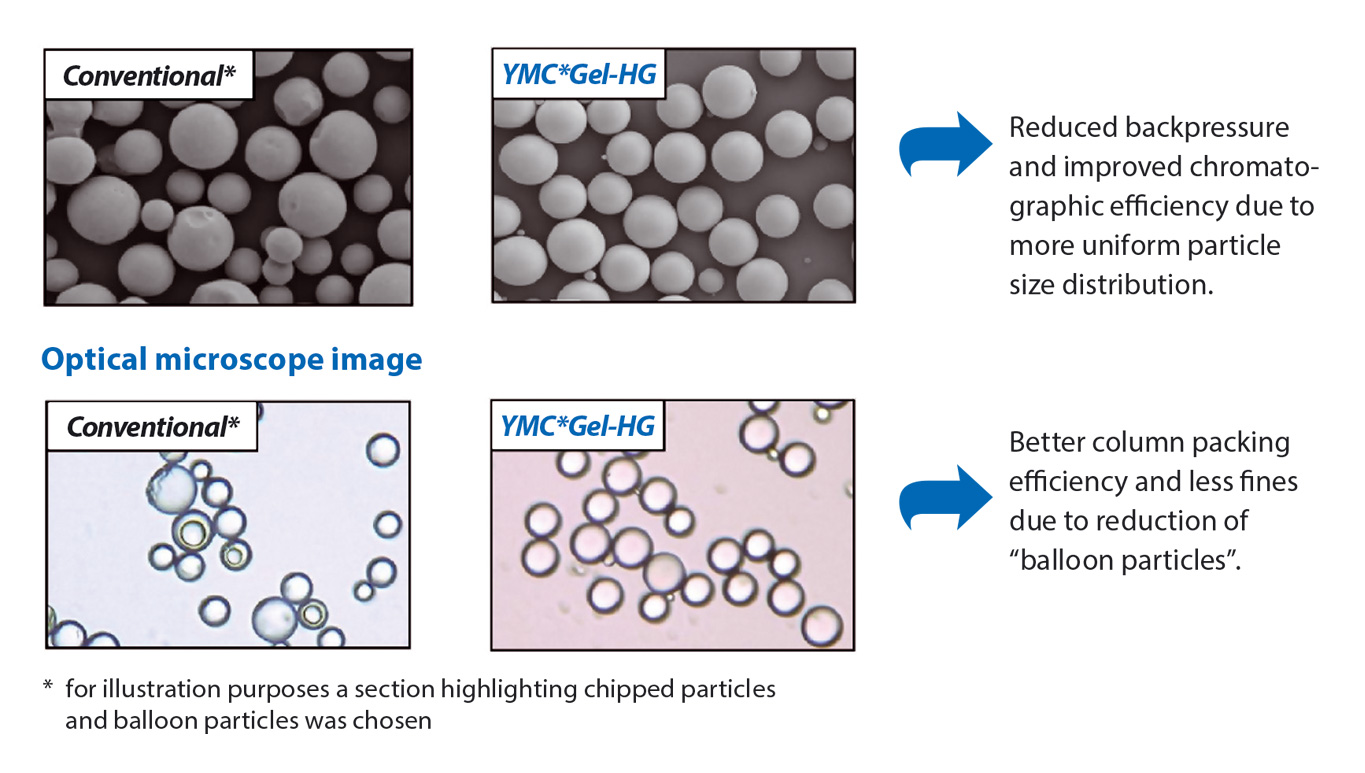 Mechanical Stability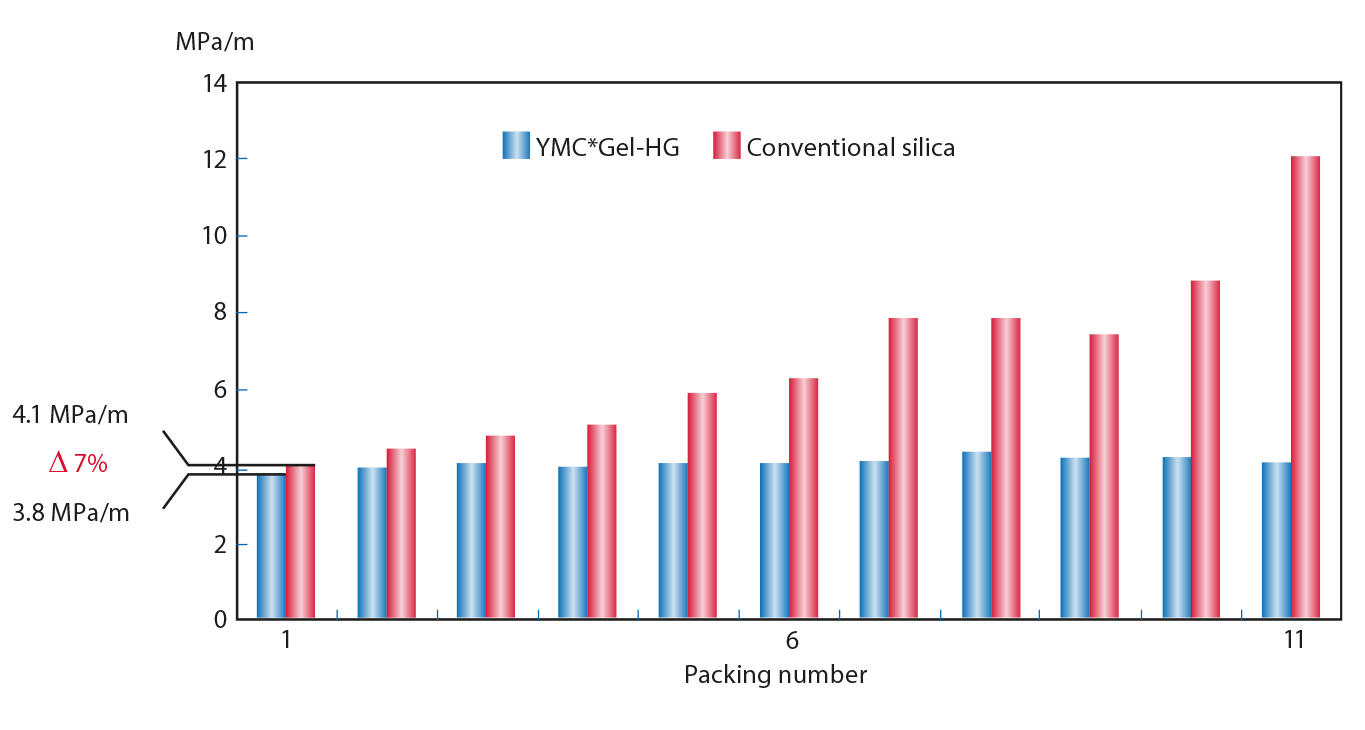 Selection of Pore Size
Pore Size (nm)
Surface Area (m²/g)
Recommendation
12
330
Suitable for the majority of separations

For most organic compounds

Higher surface area and sample loading than 20 nm and 30 nm

20
175
For molecules from 10 kDa to 50 kDa

For bulky organic compounds

Higher surface area and higher sample loading than 30 nm

30
100
For molecules larger than 40 kDa

For organic compounds with excessive retention on smaller pore size
Comparison of Spherical and Irregular Silica
The use of spherical stationary phases increases the economics of the purification process:
The column is packed only once: labor cost is reduced
The efficiency of the spherical support is much higher: higher loadability
The material can be cleaned in the column: the column can be used more than 30 times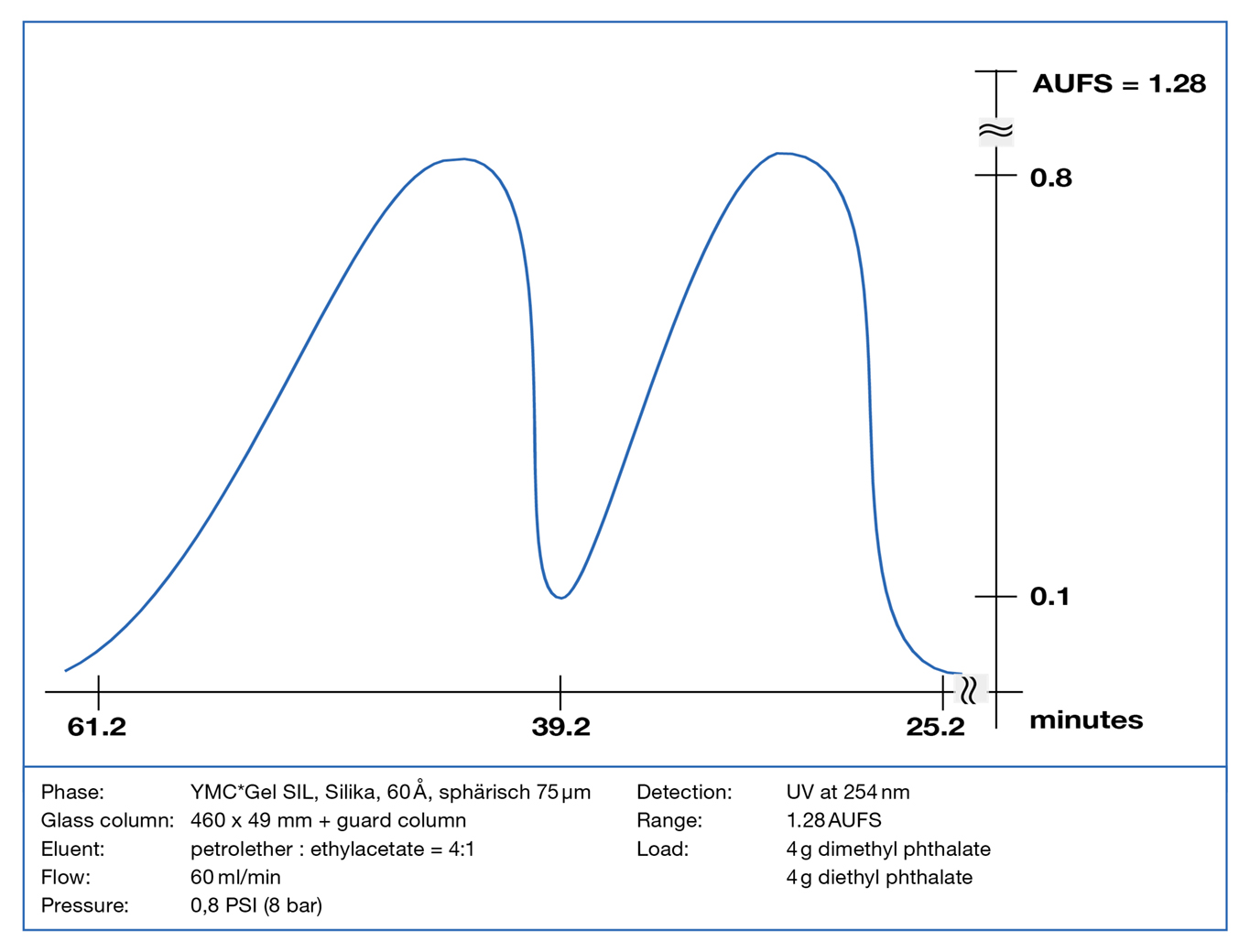 In cooperation with a pharmaceutical company, a comprehensive comparison was done with irregular and spherical silica for the separation of dimethyl phthalate and diethyl phthalate.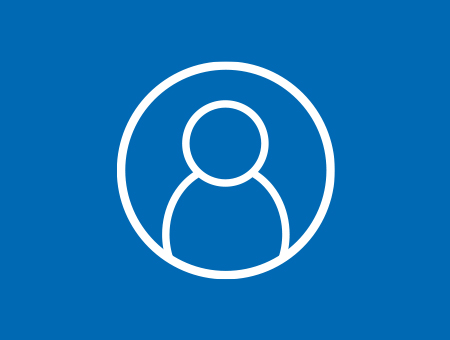 Please contact YMC for pricing or specific solutions for your purification process.
Michael Ostendorf

Product Manager Bulk Media
ph. +49 (0)2064 427-280
YMC*Gel NH2-HG (Amino)
| | | | |
| --- | --- | --- | --- |
| Particle Size/Pore Size | 12 nm | 20 nm | 30 nm |
| 10 µm | NHG12S11 | NHG20S11 | NHG30S11 |
| 15 µm | NHG12S16 | NHG20S16 | NHG30S16 |
| 20 µm | NHG12S21 | NHG20S21 | NHG30S21 |
| 50 µm | NHG12S50 | | |
Typical pack sizes:
Laboratory scale: smallest amount is 100 grams up to 4 kg PE bottle
Industrial scale: more than 4 kg in double lined PE bags inside metal drums (10 or 25 kg drums)
YMC*Gel CN-HG (Cyano)
| | | | |
| --- | --- | --- | --- |
| Particle Size/Pore Size | 12 nm | 20 nm | 30 nm |
| 10 µm | CNG12S11 | CNG20S11 | CNG30S11 |
| 15 µm | CNG12S16 | CNG20S16 | CNG30S16 |
| 20 µm | CNG12S21 | CNG20S21 | CNG30S21 |
| 50 µm | CNG12S50 | | |
Typical pack sizes:
Laboratory scale: smallest amount is 100 grams up to 4 kg PE bottle
Industrial scale: more than 4 kg in double lined PE bags inside metal drums (10 or 25 kg drums)
YMC*Gel Diol-HG
| | | | |
| --- | --- | --- | --- |
| Particle Size/Pore Size | 12 nm | 20 nm | 30 nm |
| 10 µm | DLG12S11 | DLG20S11 | DLG30S11 |
| 15 µm | DLG12S16 | DLG20S16 | DLG30S16 |
| 20 µm | DLG12S21 | DLG20S21 | DLG30S21 |
| 50 µm | DLG12S50 | | |
Typical pack sizes:
Laboratory scale: smallest amount is 100 grams up to 4 kg PE bottle
Industrial scale: more than 4 kg in double lined PE bags inside metal drums (10 or 25 kg drums)
YMC*Gel SIL-HG (Silica)/YMC*Gel SIL (Silica)
| | | | | | |
| --- | --- | --- | --- | --- | --- |
| Particle Size/Pore Size | 6 nm | 8 nm | 12 nm | 20 nm | 30 nm |
| 10 µm | SLG06S11 | SLG08S11 | SLG12S11 | SLG20S11 | SLG30S11 |
| 15 µm | SLG06S16 | SLG08S16 | SLG12S16 | SLG20S16 | SLG30S16 |
| 20 µm | SLG06S21 | SLG08S21 | SLG12S21 | SLG20S21 | SLG30S21 |
| 50 µm | | | SLG12S50 | | |
| 75 µm | SL06S75 | | SL12S75 | | |
| 150 µm | SL06SA5 | | SL12SA5 | | |
Typical pack sizes:
Laboratory scale: smallest amount is 100 grams up to 4 kg PE bottle
Industrial scale: more than 4 kg in double lined PE bags inside metal drums (10 or 25 kg drums)